>> Sunday, August 10, 2008
Thank you Liz for this Kadamo award, your thoughts are truly appreciated.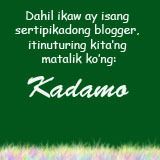 Dahil ikaw ay isang sertipikadong blogger, itinuturing kitang matalik kong "KADAMO"
Maraming salamat… :)

Mga Kadamo (friends):

1.) Janeth Vicy's Life Journey
2.) My Precious Niche
3.) Just Me.. Eds
4.) Eds Mommy Life
5.) ISL Family
6.) Me and Mine
7.) Creative in Me
8.) Little Peanut
9.) For the LOVE of Food
10.) Pea in a Pod
11.) a matter of tEys.T
12.) The Bottomline
13.) Little Kite Studios
14.) MommyBa's Journey
15.) Moments of My Life
16.) My Crossroads
15.) You


And I'm giving this award to Redge, Chloe, Dezz, Tom, Maritess, Cecile and Joan.