>> Friday, September 11, 2009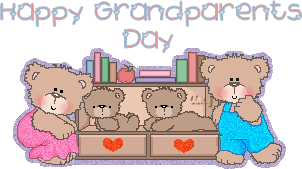 glitter-graphics.com
They're the most caring and understanding member of the family. They never seem to get enough of their little darlings - their grand children- and always giving them what they want. If you happen to see one spoiled kid ask him who takes care of him and most probably his answer would be 'my granny'.

My Mom is a perfect example of a caring grandparent mostly to my kids as they grew up in my Mom's nest unlike my brother's children who lives in different house. Now that my Mom is in her golden years her objective in life is to make us all happy and contented. Her happiness is on seeing us well and good in every aspect of our lives. Her little darlings are her grandchildren but Josh is the closest kid to her as they're together since Josh was born (like my daughters also) and Josh is a charming little kid that makes my Mom smiling always at his antics.

We may not always say it as much as Josh did many times in a day but we really love you Mom! Lola!