>> Friday, March 25, 2011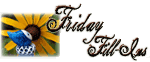 And...here we go!

1. Why does it rain on summer days?

2. God's love is equal to none, it can't be measured and it's overflowing

3. My favorite breakfast includes fried rice, omelette and smoked fish with my favorite cup of coffee.

4. It's Not About Me by Max Lucado given by Suzanne was the last book I read that touched me so much.

5. I am SO glad of God's work blessings on me both online and offline work.

6. A cup of my favorite cup of Kopiko Brown coffee would make me feel better right now.

7. And as for the weekend, tonight I'm looking forward to finishing my tasks - blogging marathon perhaps, tomorrow my plans include taking time off my work and Sunday, I want to prepare early for fellowship service!

Happy weekend to all!